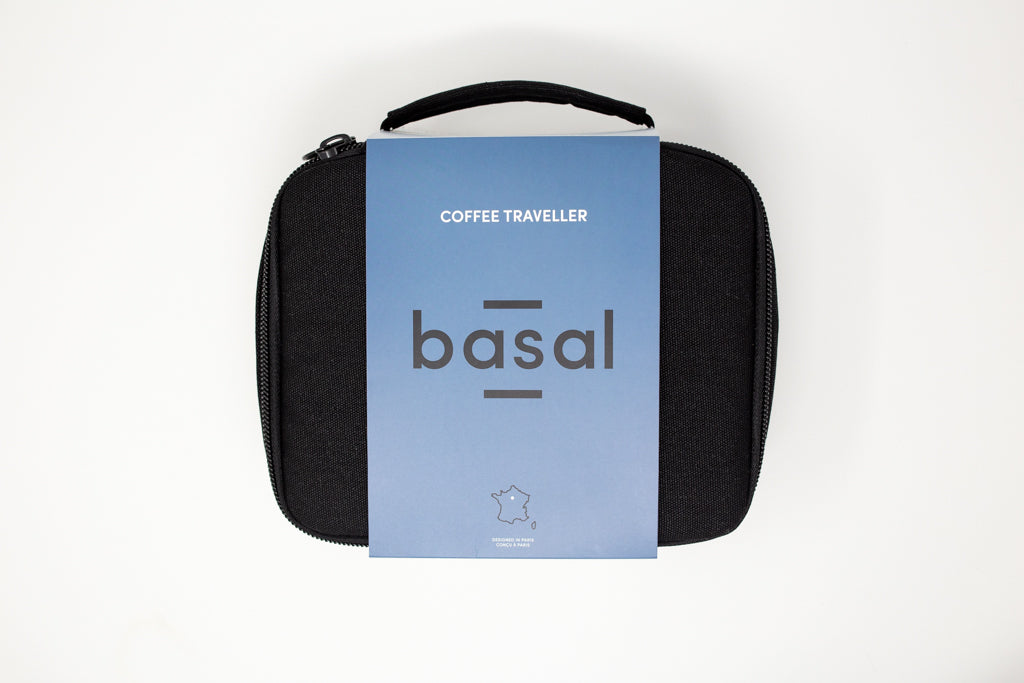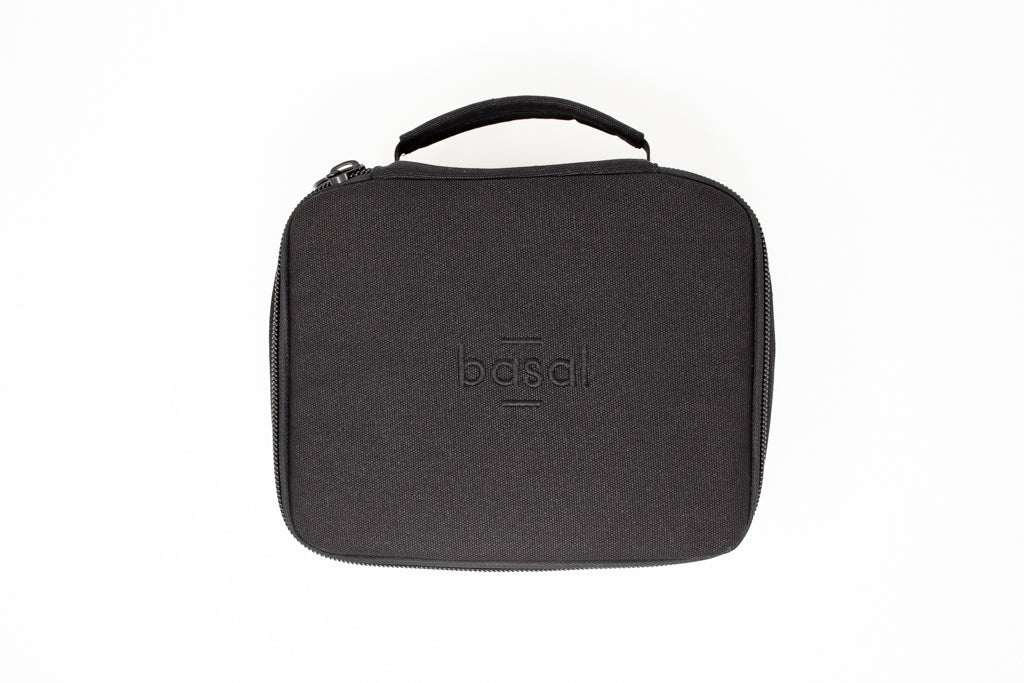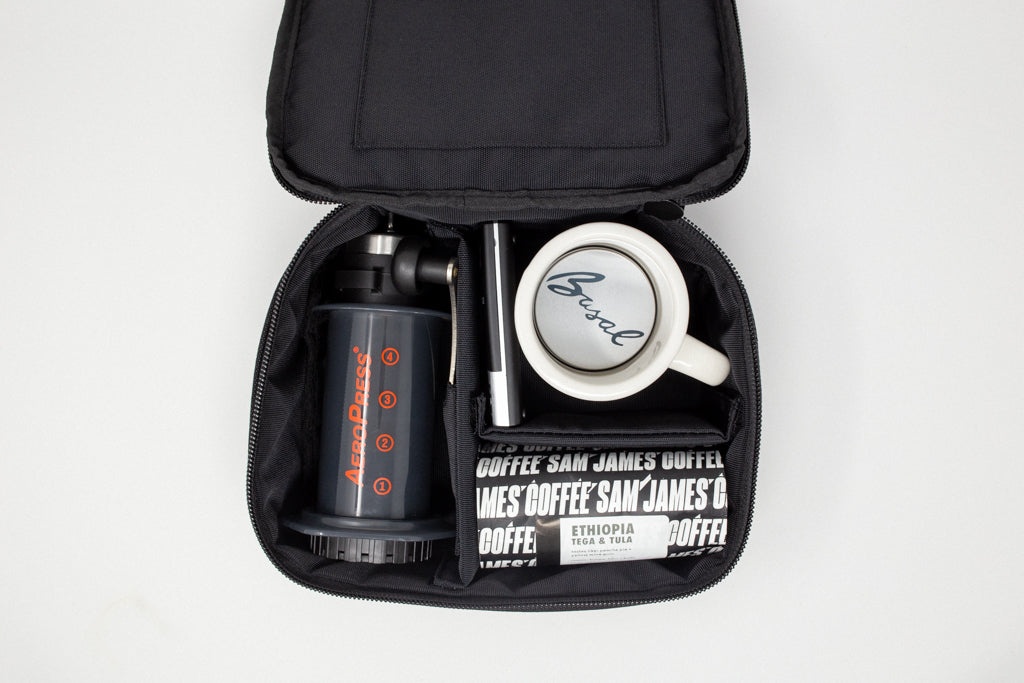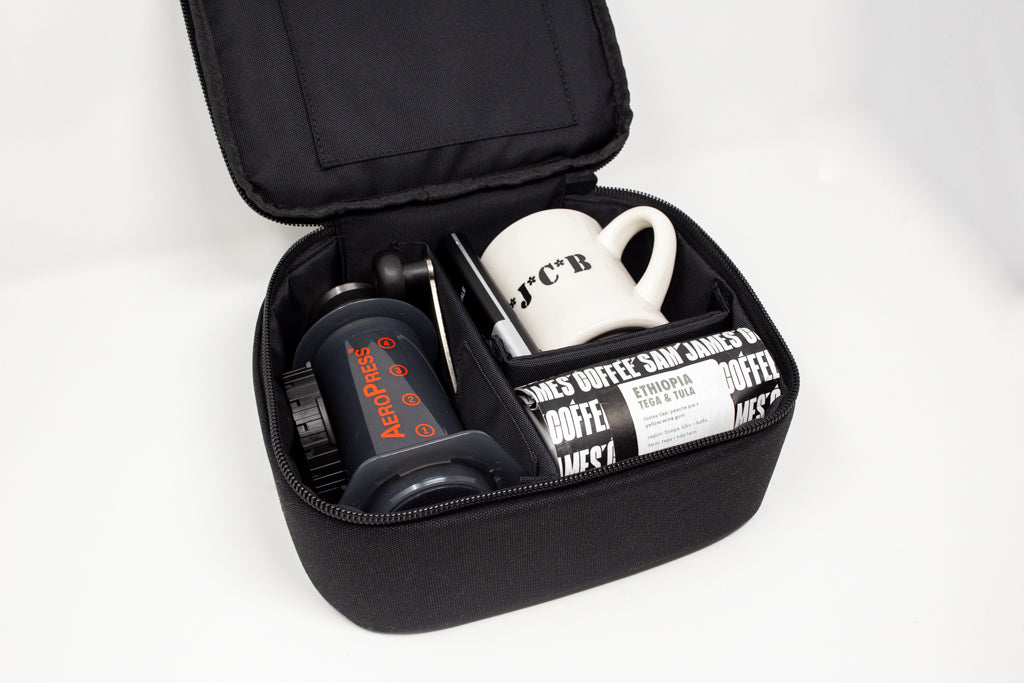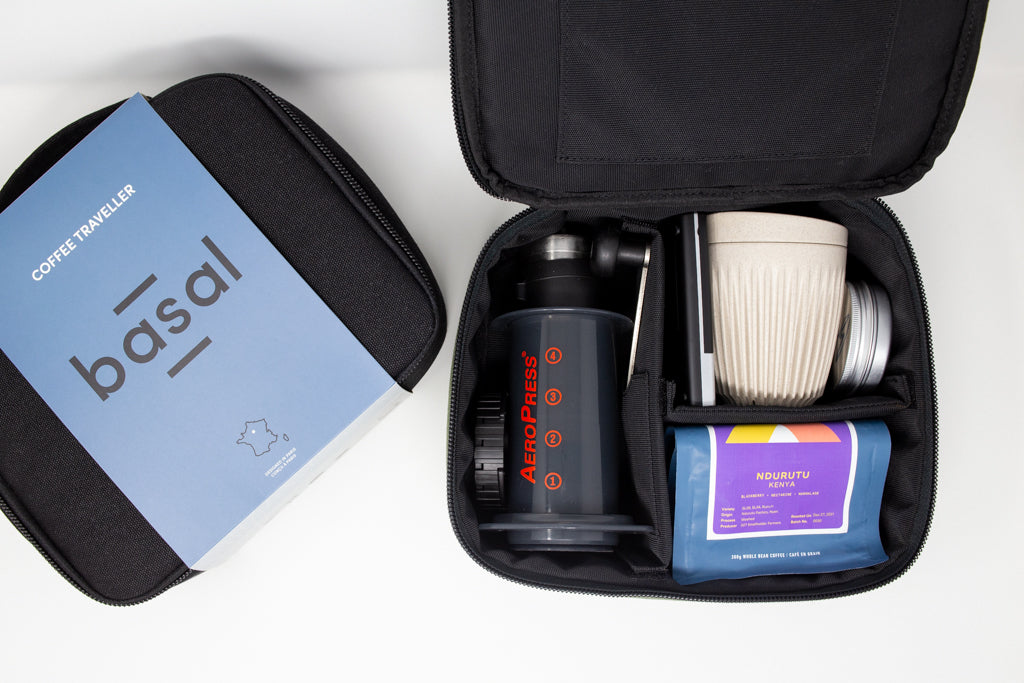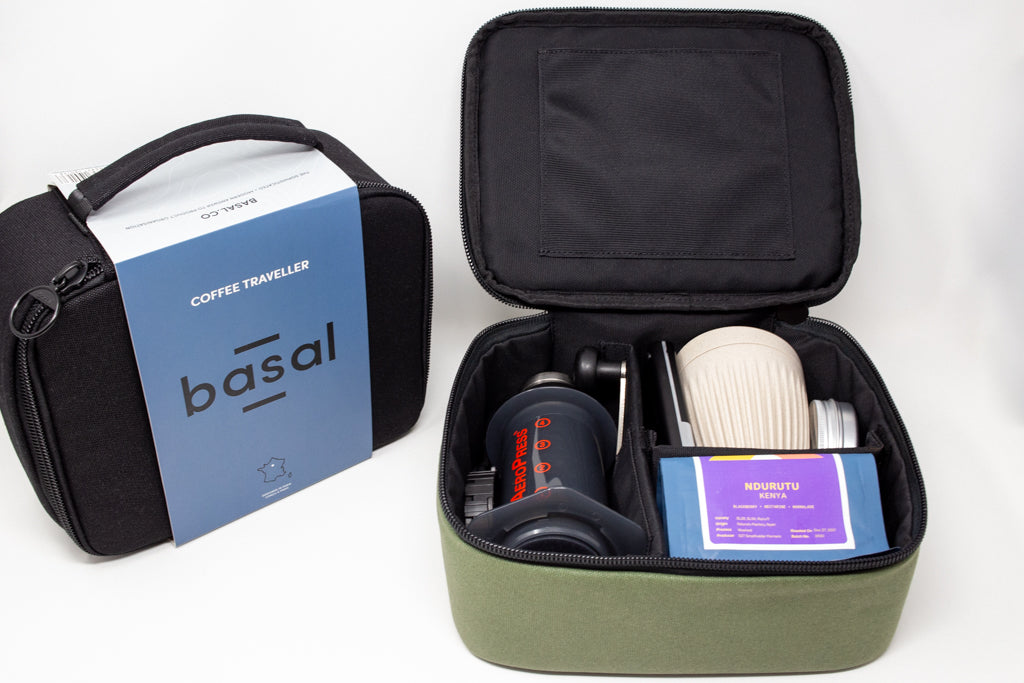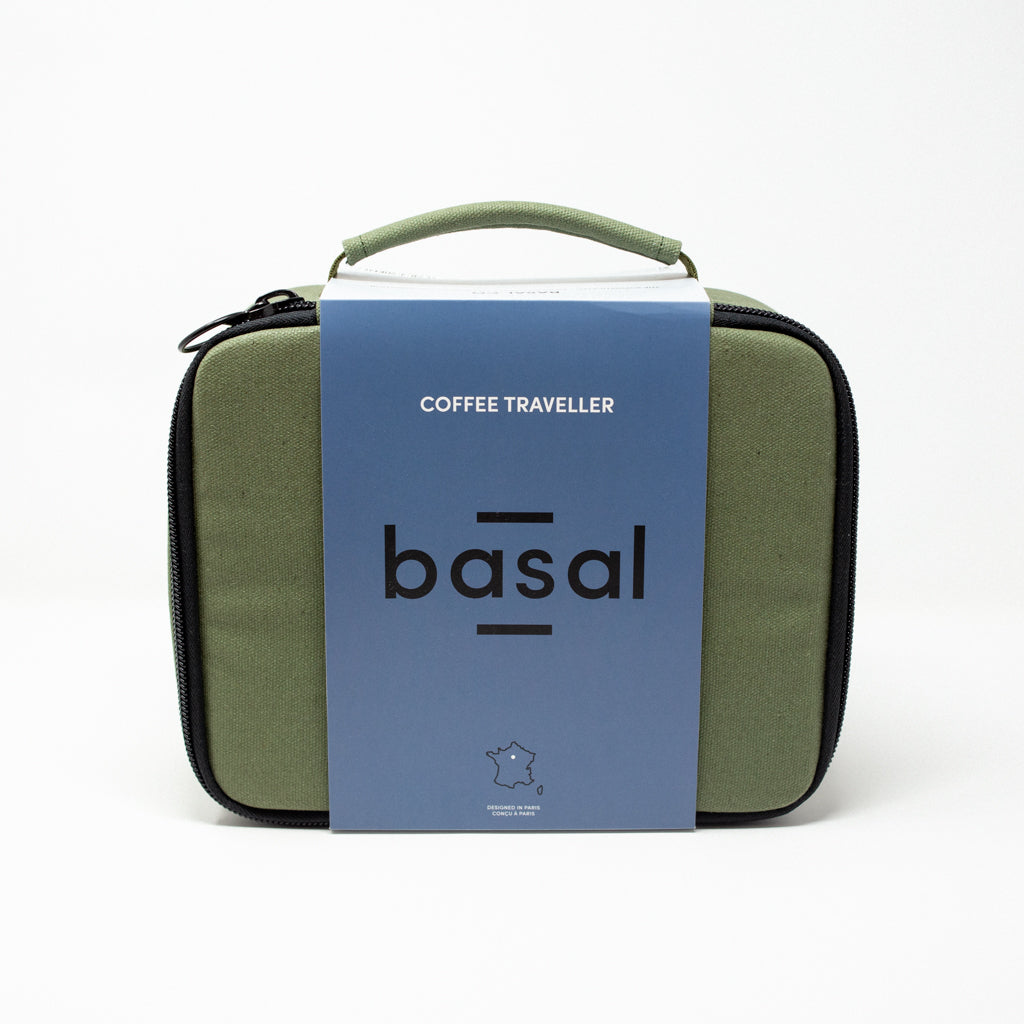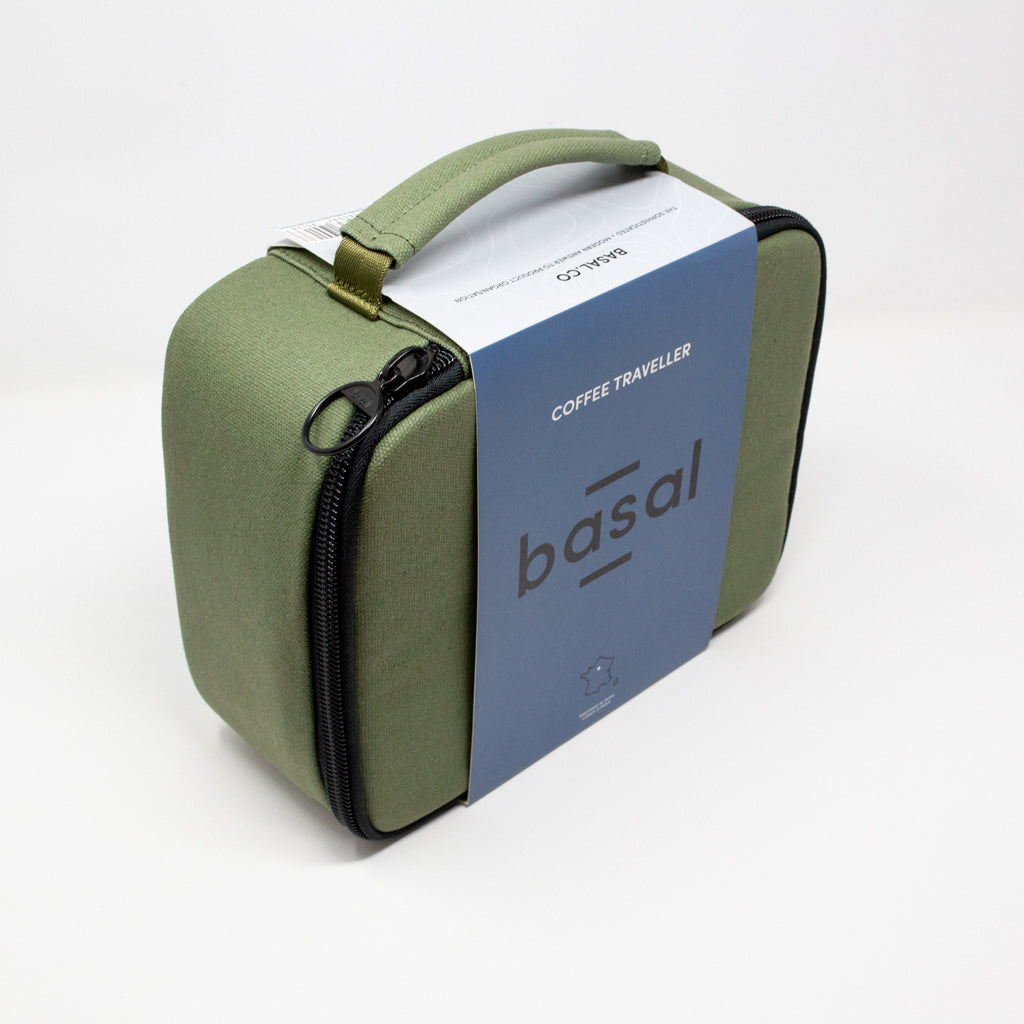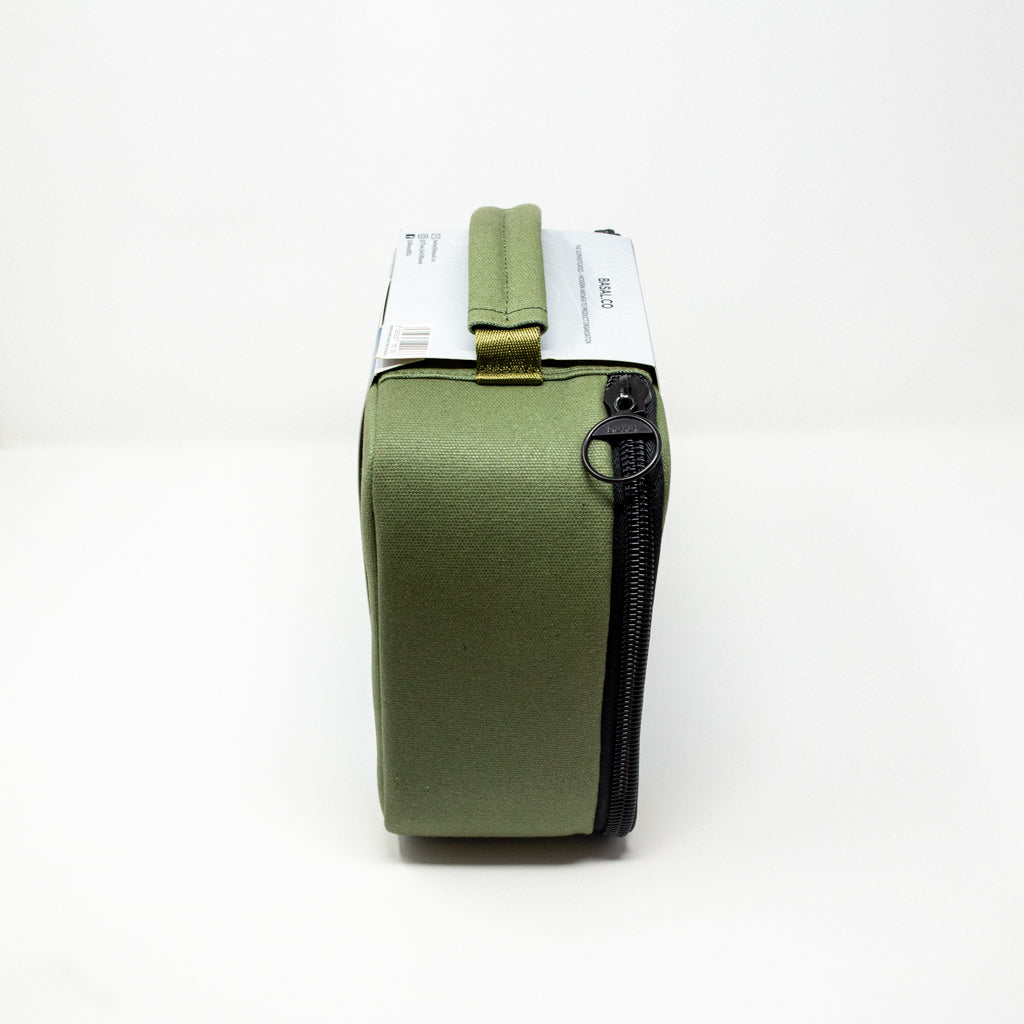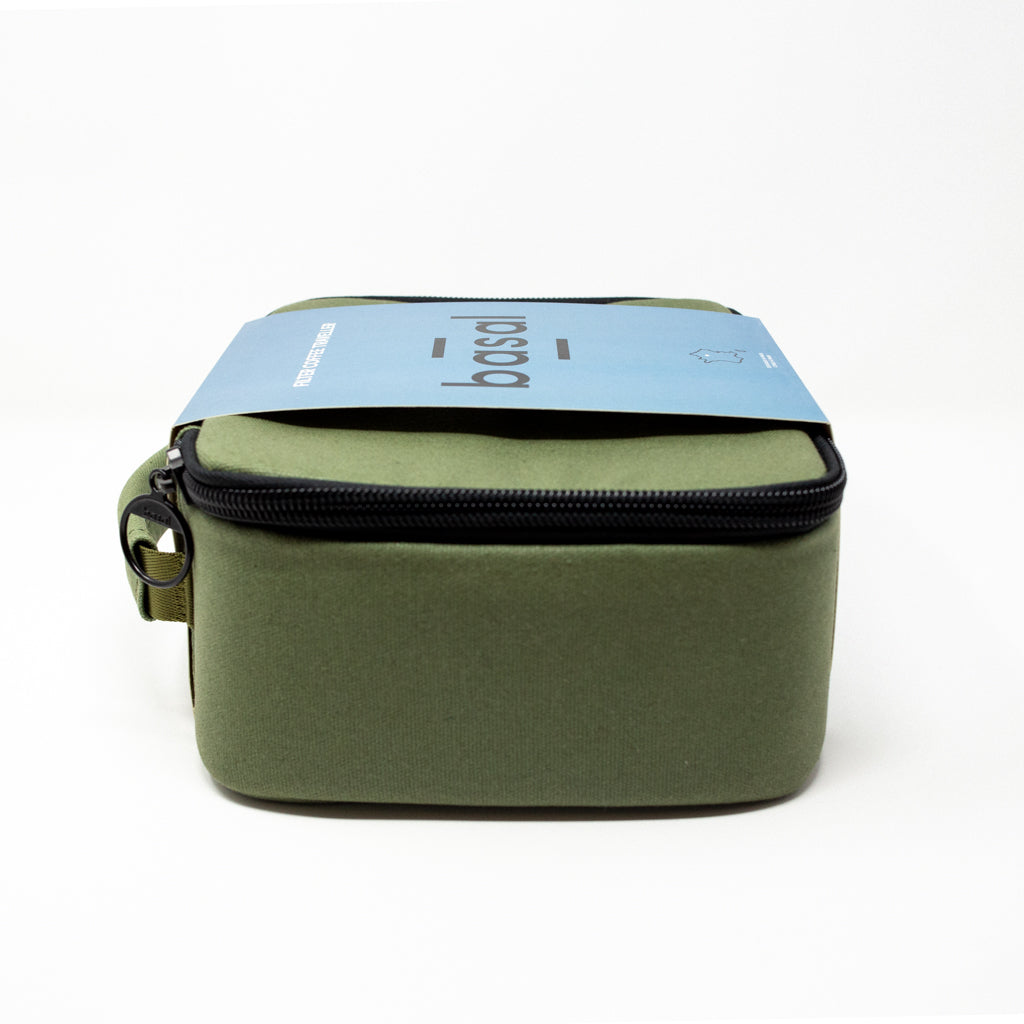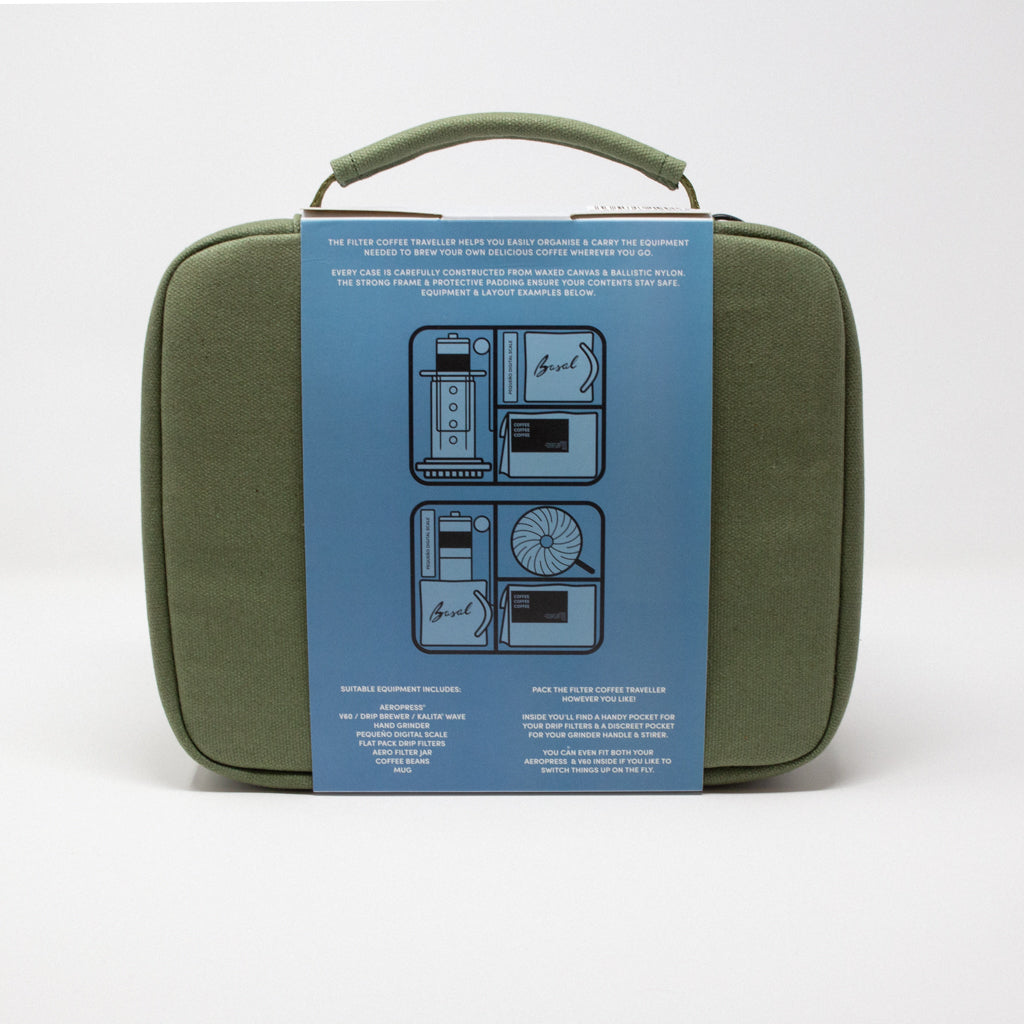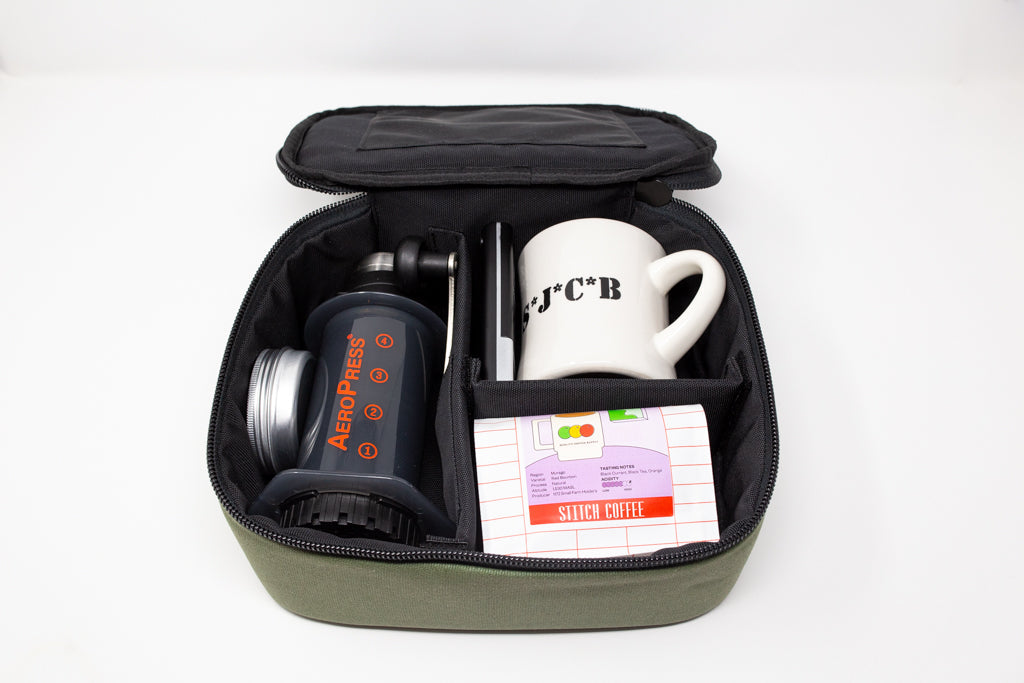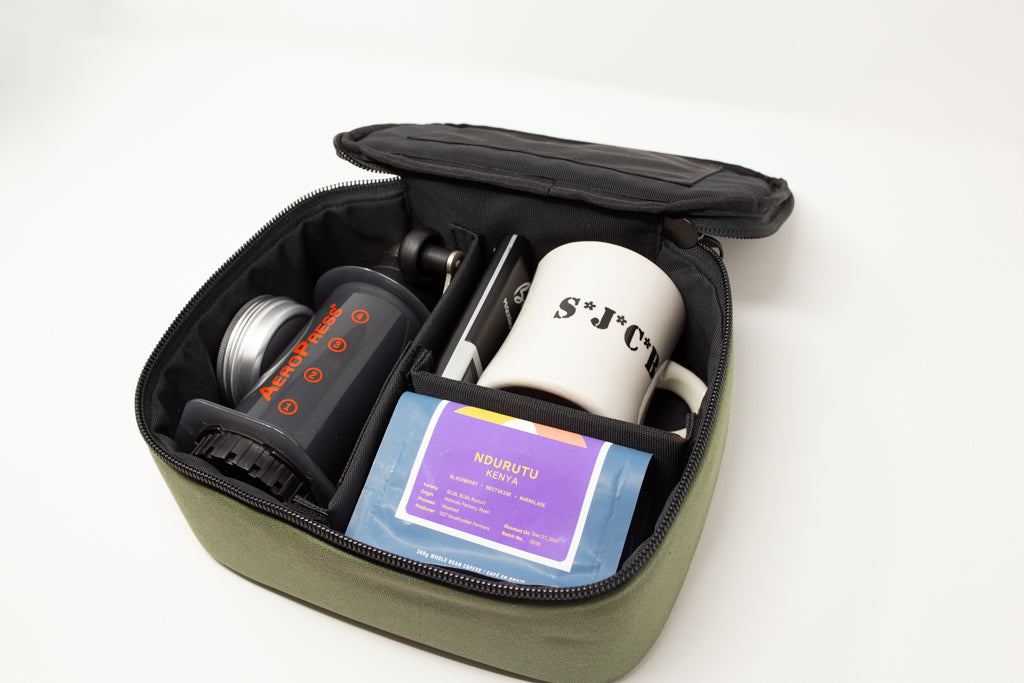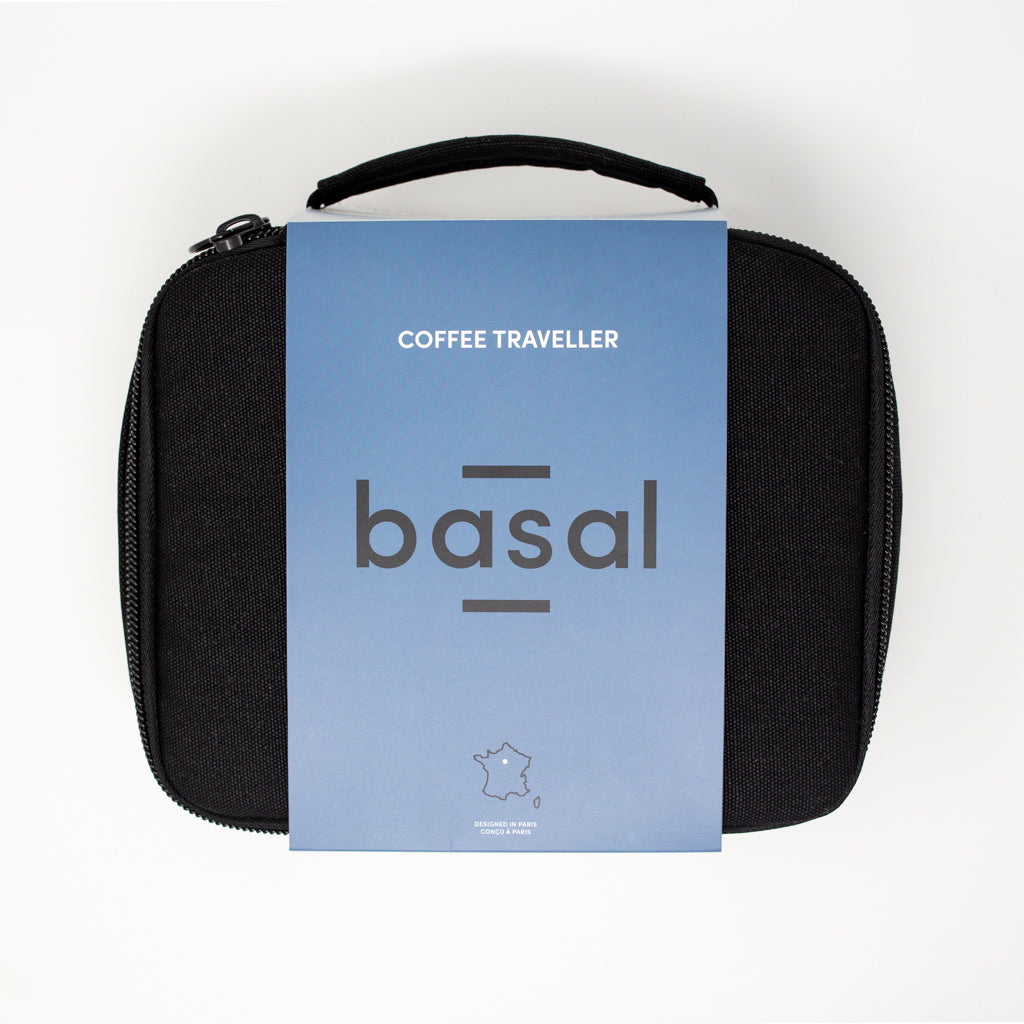 Basal Coffee Traveller
The perfect carry case & travel bag for your coffee brewing equipment
Designed in Paris, France & thoroughly tested
Lightweight with a rigid spine providing enhanced protection & structure
Carefully crafted from waxed canvas and lined with ballistic nylon
Fully padded for protection
Suitable for AeroPress Original, AeroPress Go, AeroPress Clear, Hario V60, Kalita Wave, Pour Over and other brewing apparatus 
Finally, there is a great way to pack, protect and carry all of your essential coffee brewing equipment. 
The Coffee Traveller is a beautifully crafted coffee travel case that makes it easy to take your gear with you without fuss and without having to worry about damaging or misplacing anything. 
There's nothing worse than arriving at your destination and forgetting your hand grinder, or reaching for your coffee beans only to find them spread through your carry bag. Move on from this madness and enjoy a convenient and handsome soft case that takes your coffee to the next level.
Keep your coffee equipment with you whether you're skipping town for the weekend or you simply want to keep all the components properly organised between sips. 
Most commonly used with AeroPress Original, AeroPress Go, and AeroPress Clear coffee makers.
The Coffee Traveller is designed to make your life much easier! This is the ideal way to keep your coffee equipment organized and enjoy it for years to come. This handy, sophisticated & beautiful case is great for: 
Commuters

Travelers

Weekends away

Vacations/holidays

Home organization

Hiking/camping

Musicians on tour & gigging

Equipment protection

Gifts
The structure is made from 5 premium layers as depicted:
This combination of internal layers creates a durable and reliable coffee case that you can depend on.
The dimensions of the Coffee Traveller is 10" x 8" x 4.25"
Suitable hand grinders include most popular brands i.e. Porlex Mini, Porlex Tall, Comandante, Hario, Rhino & Knock.
The internal dividers enhance protection and provide organization for your gear. They can, however, be removed entirely if that suits better. For those traveling with flat pack pour over filters like the v60 (02 or 01) paper filter, make use of the custom designed pocket in the lid which comfortably holds over 50 filters. 
Tucked into one of the internal dividers inside the case is a discreet sleeve designed to hold the handle off your grinder. Slide one end into the sleeve and it will stay fixed in its place.
The Basal coffee travel kit is crafted to make it especially simple for you to pack and store your coffee equipment. Slide it into your backpack or tote bag just as easily as your carry on suitcase and never be without high quality coffee again.
Features include:
Lightweight, rigid frame
Double padding
Easy-to-clean lining
Robust nylon zipper
Spill avoidance filter pocket
Handle/stirrer pocket
Pack your Coffee Traveller with our digital scales and our AeroPress filter jar and your coffee kit will be perfectly equipped.
Aero Filter Jar - A customized metal screw top jar made the perfect size to slide in a stack of AeroPress paper filters and keep them properly organized instead of spread through your bag. Click here for product details.
Pictured equipment aside from the Traveller is not included.
This is shipped from Basal and not from AeroPress. Free standard shipping on orders over US$100 within continental USA, Canada, Australia, United Kingdom & central Europe.
Basal can help with returns on a case by case basis. Used products cannot be returned. 
Returns on equipment items that are unopened/unused may be shipped back to Basal at your own cost. Returns are refunded when the item is received by Basal.
Basal and AeroPress are not responsible for uninsured packages that are lost in transit.
Please contact shipping@basal.co with any questions or concerns you have regarding returning products and we will get back to you right away.