AeroPress Original Coffee Maker
The better coffee press for daily use
Free shipping within the contiguous USA
Loved by fans around the world, our patented technology produces the richest, smoothest coffee, cold brew, and espresso drinks you've ever tasted. Made in the USA.

No acidity, bitterness, or grit: Rapid brewing eliminates bitterness and acidity while micro-filters remove the grit typically found in other presses. Goodbye French press! 
Brew in under one minute: Just add coffee and water, stir, and press. Clean-up takes only a few seconds. 
Brew American or espresso style coffee: Brews one to three delicious cups with one press. AeroPress Original can also make cold brew coffee as well as espresso-style coffee for lattes, cappuccinos, and more.
AeroPress Original Chamber & Plunger: For brewing the most delicious coffee ever!
Micro-Filters, Filter Holder, & Filter Cap: Micro-filters remove grit from your coffee, unlike other press-type coffee makers. The filter holder stores filters neatly on your counter and keeps them easily accessible.
Funnel: Make it easy to transfer ground coffee from your grinder to the AeroPress Original chamber.
Stirrer: Designed to be the perfect length for the AeroPress Original.
Scoop: Measures just the right amount of coffee for delicious, easy AeroPress Original recipes.

Tote bag included if option selected.
We offer free shipping on Coffee Makers  within the contiguous USA. We charge our actual shipping costs or less on all other orders. If you're shopping from outside the US, please find a local retailer to save on shipping.
AeroPress brand products are warranted against defects in materials and workmanship for one year from the date of purchase from an authorized retailer. If you think you purchased a defective AeroPress product that is under warranty, please contact us and report the problem. We will promptly be in touch.
Make the perfect cup, every time
The AeroPress Original sets a new standard for coffee lovers, who can make incredible tasting coffee and espresso at home. Immersion brewing technology extracts the most flavor and a paper micro-filter ensures no grit.
The result: clean, bright, smooth coffee.
"The smoothest, richest coffee that you have ever tasted."
"The best single-cup coffee maker on the market."
"Makes a very good - and very fast - cup of coffee."
Quick brew. No clean up.
■  Brews in under a minute (simply add water and press!)
■  The plunger wipes the chamber clean as you brew (just pop out the filter and grinds)
■  Easier to use than any other coffee maker
Curious to learn more?  See how it works
Be your own barista
Beginner or pro, the AeroPress Original is the easiest way to make all kinds of coffee including Americanos, lattes, cold brew and even pour over coffee.
"AeroPress has made me a coffee snob!"
— D. McIver
★ ★ ★ ★ ★
AeroPress Original beats every other coffee maker, any day
Be it a French press, pour over, or espresso machine, there's a reason for everyone to own an AeroPress Original:
✔   Smooth (not bitter or gritty)
✔   Quick! A perfect cup in a minute
✔   No cleanup
✔   Best value coffee maker ($)!
✔   Better for the environment
✔   Easy to store/take with you
Convenient coffee, without the waste
●  Compostable paper filters (or use a reusable metal filter)
●  Free of BPA and phthalates
●  Requires no electricity
The AeroPress Go and the AeroPress Original both brew delicious, grit-free coffee without bitterness and with very low acidity. The AeroPress Original is optimized for home use while the AeroPress Go is specifically designed for use on the go. The AeroPress Go includes a drinking mug with lid that doubles as a carrying case, making it great for traveling, camping, or going to work. Please refer to this document for a side-by-side comparison of the AeroPress Go travel coffee maker and the AeroPress Original coffee maker.
The AeroPress Original can brew up to three shots of espresso style coffee. If you prefer to brew your coffee by pushing all the water through the grounds, you can brew one 10 oz. serving of coffee or cold brew.
The AeroPress Original can make American style coffee, cold brew style coffee, or espresso style coffee for use in drinks like lattes and cappuccinos.
The biggest mug you can press into with the AeroPress Original has a top inner diameter of 3 3/4 inches (95mm). The smallest mug you can press into with the AeroPress Original has a top inner diameter of 2 5/8 inches (67mm).
You can in the top shelf, but a simple rinse is sufficient because the plunger wipes the chamber. If your chamber ever gets sticky, wash it with vinegar. We recommend occasionally removing the seal from the end of the plunger for a good washing inside and out with warm water and dish soap.
Customer Reviews
Write a Review
Ask a Question
05/25/2022
Beginner friendly
I'm fairly new to to the coffee world and learned to use this with my dad on a camping trip. I chose the regular version instead of the travel version because I personally have plenty of mugs and would use the funnel more, and it's served me well.
Ashley B.

United States
05/25/2022
Recent purchase
This is my second AeroPress. My first one is still working after 5 years but I decided to take it to work. No going back to brew. It is the only way to make a cuppa Joe!
Richard Z.

United States
05/24/2022
I'm loving my AeroPress
I bought this because I've heard much about it having a kind of a coffee-cult following and I was curious. I also was excited for it's 'less acidity' capability and so far I'm really happy:) Took me about 4 tries to get a coffee I enjoyed with the right timing, coffee amount, water, etc… but now that I have a great baseline coffee I can have fun playing. I very happy I got it!
Chauna G.

United States
05/23/2022
Easy and tasty
Easy to use and clean. Always makes a good cup of Joe.
Ammon

United States
05/19/2022
Aeropress is most used device in the house now
Love the versatility- I use the Aeropress to make my morning Americano and my later in the morning latte and my still later in the morning iced black and my midday decaf and - it's faster and easier and in my hands makes a more enjoyable cup of coffee than my pour-overs. There are a ton of recipes and recommendations out there - tbh i think there's a lot of overthinking in the coffee-prep arena. I've landed on about 12g of coffee, ground at 2:0 on the Knock hand grinder which is a little finer than I'd use for a pour over but on the coarse side for the Aeropress. I warm my mug, put the aeropress on top of my mug, put in the coffee, pour in water just off boiling up to the 4 (probably about or just over 200ml), stir, put the plunger on top, let the immersion sot for a couple of minutes, maybe 2:30 or so, plunge gently, add milk or ice or not, and then take a moment to enjoy my coffee, which is consistently enjoyable. I bought it for home use but I'll probably take it when i go camping- like, why wouldn't I? Coffee beans usually come from Karma Roasters (stiryoursoul.com)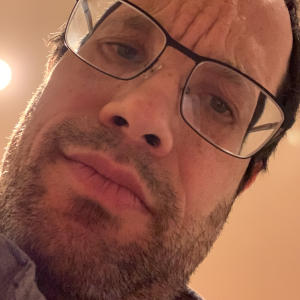 RG
Russ G.

United States
05/19/2022
Still the best!
I've had an Aeropress since they first came out years ago. I've loved the coffee I make from it, but I decided to get an espresso machine one day, because I thought I was missing something. After disappointedly using the machine and trying to get the same quality cup as I get from the Aeropress for 3 solid months, I have permanently gone back to the Aeropress! I think it delivers, by far, the very best flavor from coffee of any maker out there!
Elizabeth A.

United States
"Spectacularly good."
"Small and portable. Easy cleanup."
"AeroPress has the best Good Coffee To No Fuss Ratio I've found"
"Makes a very good--and very fast--cup of coffee."
"My go-to."
"The smoothest, richest coffee that you have ever tasted"