AeroPress Original + Filters Bundle
The better coffee press for daily use
Free shipping over $35 within the contiguous USA
This bundle contains an AeroPress Original coffee maker plus one replacement filter pack of 350 paper AeroPress micro-filters. Loved by fans around the world, our patented technology produces the richest, smoothest coffee, cold brew, and espresso drinks you've ever tasted. Made in the USA.

No acidity, bitterness, or grit: Rapid brewing eliminates bitterness and acidity while micro-filters remove the grit typically found in other presses. Goodbye French press! 
Brew in under one minute: Just add coffee and water, stir, and press. Clean-up takes only a few seconds. 
Brew American or espresso style coffee: Brews one to three delicious cups with one press. AeroPress Original can also make cold brew coffee as well as espresso-style coffee for lattes, cappuccinos, and more.
AeroPress Original Chamber & Plunger: For brewing the most delicious coffee ever!
2 Packs of Micro-Filters, Filter Holder, & Filter Cap: Bundle contains two packs of 350 paper AeroPress micro-filters (one replacement pack and one inside the Original package). Micro-filters remove grit from your coffee, unlike other press-type coffee makers. The filter holder stores filters neatly on your counter and keeps them easily accessible.
Funnel: Make it easy to transfer ground coffee from your grinder to the AeroPress Original chamber.
Stirrer: Designed to be the perfect length for the AeroPress Original.
Scoop: Measures just the right amount of coffee for delicious, easy AeroPress Original recipes.

Tote bag included if option selected.
AeroPress brand products are warranted against defects in materials and workmanship for one year from the date of purchase from an authorized retailer. If you think you purchased a defective AeroPress product that is under warranty, please contact us and report the problem. We will promptly be in touch.
Make the Perfect Cup, Every Time
The AeroPress Original sets a new standard for coffee lovers, who can make incredible tasting coffee and espresso at home. Immersion brewing technology extracts the most flavor and a paper micro-filter ensures no grit.
The result: clean, bright, smooth coffee.
"Perfect coffee every morning."
"The best single-cup coffee maker on the market."
"Makes a very good - and very fast - cup of coffee."
Quick Brew. No Clean Up.
■  Brews in under a minute (simply add water and press!)
■  The plunger wipes the chamber clean as you brew (just pop out the filter and grinds)
■  Easier to use than any other coffee maker
Curious to learn more?
AeroPress Original Coffee Makers Win Anytime, Anywhere
✔   Smoother, grit-free coffee
✔   Faster brewing—less than a minute!
✔   Clean-up in seconds
✔   More versatile and customizable
✔   Smaller, lighter, portable
✔   Designed in Silicon Valley, made in the USA
Be Your Own Barista
Beginner or pro, the AeroPress Original is the easiest way to make all kinds of coffee including Americanos, lattes, cold brew and even pour over coffee.
"AeroPress has made me a coffee snob!"
— D. McIver
★ ★ ★ ★ ★
Convenient Coffee, Without the Waste
●  Compostable paper filters (or use a reusable metal filter)
●  Free of BPA and phthalates
●  Requires no electricity
Customer Reviews
Write a Review
Ask a Question
Filter Reviews:
coffee
aeropress
taste
home
cleanup
gift
something
water
French
method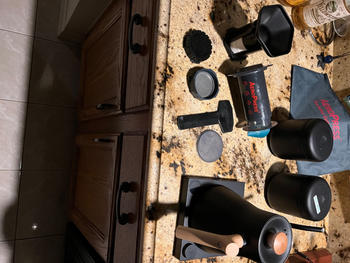 03/01/2023
Great cup of coffee
What a great way to make a great cup of coffee! Love it with the Prismo filter.
Scott H.

United States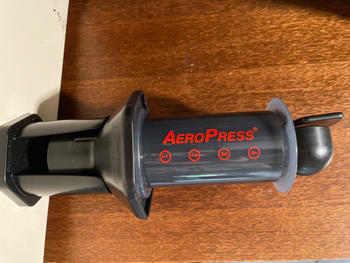 02/20/2023
Immediately tasted the difference
Was a little tricky to figure out if I was doing things right, but thankfully there's a plethora of help and articles on the website. I started using the inverted method for my cups of coffee. I use it for both hot and cold brew methods. Did a blind taste test on my wife and she likes it over our usual drip coffee. If they ever make a full pot version I'm sold already.
Christian R.

United States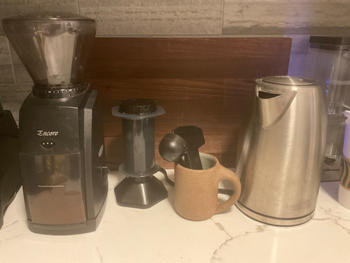 10/25/2022
The Best.
This is the most consistent way to make a good cup of coffee. So fun and easy to use, I started going inverted and haven't looked back! I have one at home and a travel size. Love 'em!
Richard K.

United States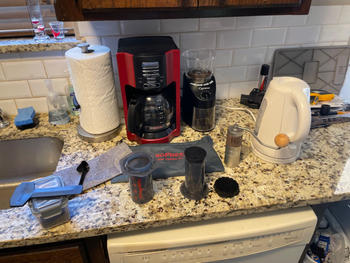 10/11/2022
Makes great coffee
I purchased the Aeropress for camping, but it makes such good coffee that I find myself using it every day! Not flashy, but what's important at the end of the day? Bragging rights or good coffee? Just pull the trigger on one, you won't regret it.
Michael B.

United States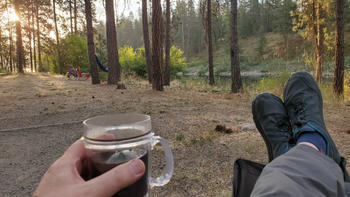 08/20/2022
We bought it for camping, but I want it in the kitchen too.
The clouds are pink, but the sun hasn't hit the campsite yet. You hear nothing but your own footsteps, the day's first birds, and the whoosh of the stove. By the time the water's hot, the Aeropress is loaded and ready to make that first cup of coffee, and the camp chair is set out facing the lazy river. Breathe deep, just a minute or two for steeping, then you can sit with that cup, let the aroma join with the scent of the pines, and take the first sip.
Wes S.

United States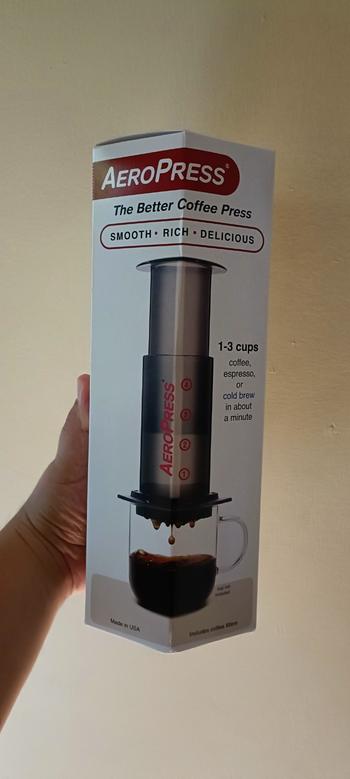 06/14/2022
Pretty good
Inhabe bien using my new aeropress for a couole of weeks, AND it Is becoming un one of my favoritos methods. It Is really Easy ti get a great cup of coffee. It Is practical AND efficient. I would recommend this to anyone starting un the world of coffee.
moreno

United States
03/20/2023
My Second AeroPress
I previously purchased an AeroPress as a great way to make the perfect cup of coffee using fresh roasted beans from Sinister Joe Coffee Co. Because I travel extensively, I purchased a second one, with the travel bag, because it is so easy to keep everything together and I can just throw it in my duffle. If you want a great cup of coffee, I highly recommend the AeroPress and Sinister Joe Coffee Co.
SCOTT T.

United States
03/19/2023
Portable, simple to use, and produces a strong cup of coffee!
Mae G.

United States
03/15/2023
Still prefer my Bialetti
I was hoping that I could make my morning espresso in the Aeropress, but I find that, even though I'm using a lot more ground coffee, the result is weaker than expected. I plan to experiment with steeping times, but, for now, I'm reverting to my stovetop espresso maker.
Patricia H.

United States
Hello Patricia, Many thanks for your review! We're sorry that your coffee isn't quite as strong as you'd like. It sounds like you've already tried adding more coffee. Another way to strengthen your coffee is to brew your coffee for longer. After adding the coffee and water to your chamber and stirring, try inserting the plunger half an inch or so into the top of the chamber. This will create a vacuum that halts the brewing process. That will allow you to extend your brew time, which may help amp up the strength. Another suggestion is to try using somewhat hotter water to brew. We hope that these tips are helpful. If you still have questions, please email info@aeropress.com and we will be glad to help you. Best wishes, Constance, AeroPress, Inc.
The AeroPress Go and the AeroPress Original both brew delicious, grit-free coffee without bitterness and with very low acidity. The AeroPress Original is optimized for home use while the AeroPress Go is specifically designed for use on the go. The AeroPress Go includes a drinking mug with lid that doubles as a carrying case, making it great for traveling, camping, or going to work. Please refer to this document for a side-by-side comparison of the AeroPress Go travel coffee maker and the AeroPress Original coffee maker.
The AeroPress Original can brew up to three shots of espresso style coffee. If you prefer to brew your coffee by pushing all the water through the grounds, you can brew one 10 oz. serving of coffee or cold brew.
The AeroPress Original can make American style coffee, cold brew style coffee, or espresso style coffee for use in drinks like lattes and cappuccinos.
The biggest mug you can press into with the AeroPress Original has a top inner diameter of 3 3/4 inches (95mm). The smallest mug you can press into with the AeroPress Original has a top inner diameter of 2 5/8 inches (67mm).
You can in the top shelf, but a simple rinse is sufficient because the plunger wipes the chamber. If your chamber ever gets sticky, wash it with vinegar. We recommend occasionally removing the seal from the end of the plunger for a good washing inside and out with warm water and dish soap.
For the best brewing experience, use a medium-fine grind size, shake to level the bed of coffee grounds before pouring in the water, and pour the water slowly. Read More
Storage and Care:
To maximize seal life, always eject the used coffee right after brewing and store your AeroPress coffee maker with the seal pushed all the way through the chamber. This keeps the seal free of compression for longer seal life. There is no adhesive on the seal, so you can easily remove it and then replace it on the AeroPress plunger. You can purchase replacement seals from our website here: https://aeropress.com/products/aeropress-seal.
Cleaning:
For day to day use, a simple rinse is sufficient because the plunger wipes the chamber clean as you brew. However, you can wash AeroPress coffee makers in the dishwasher (top rack only). We recommend occasionally removing the seal from the end of the plunger for a good washing inside and out with warm water and dish soap. If your chamber ever gets sticky, wash it with vinegar. 
"Spectacularly good."
"Small and portable. Easy cleanup."
"AeroPress has the best Good Coffee To No Fuss Ratio I've found"
"Makes a very good--and very fast--cup of coffee."
"My go-to."
"Perfect coffee every morning."